---
Sõrve Peninsula – first mentioned in 1234 as Sworve – forms the southenmost section of Saaremaa with its lenght of 32 km and and maximum width of 10 km. Yet at the 18th century maps the Sõrve Peninsula was shown as an island separated from rest of the Saaremaa by a sea strait. Today it is cut by a two-way River of Salme, where recently were found two ship burials from Nordic Iron Age at around AD 700-750. At the southern tip of the peninsula, called Sõrve säär, stands the Sääre lighthouse with its 53 m of hight.
---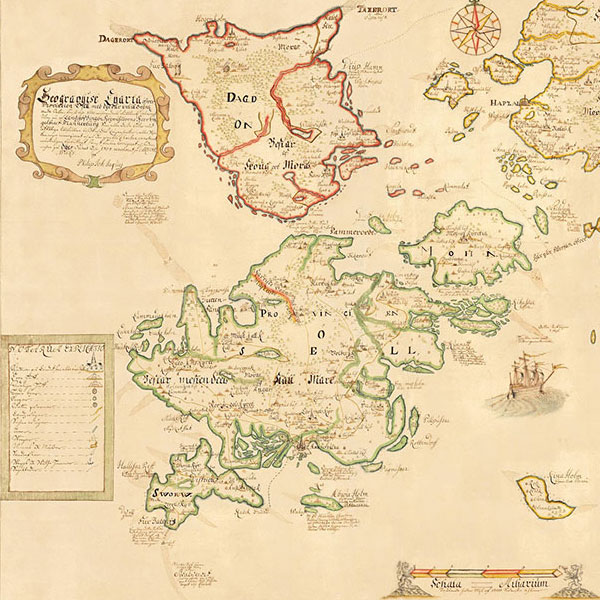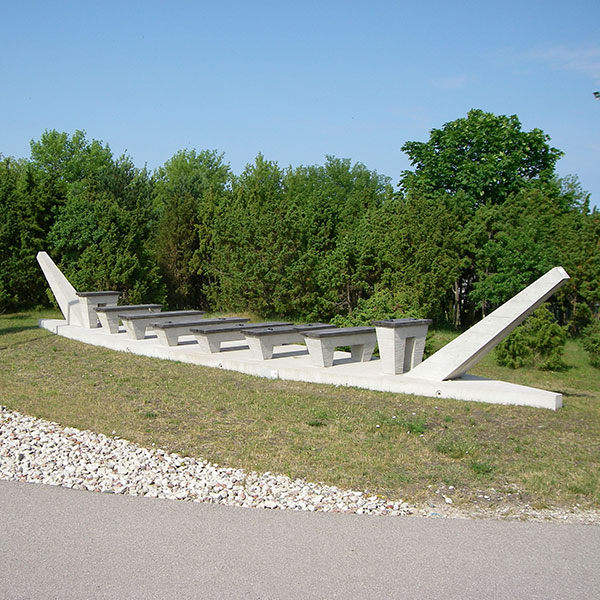 There are several stories and folk tales told about Sõrve Peninsula, most of them related with local ancient hero of Suur Tõll.
For excample, according to the folk tales River of Salme was excavated by Suur Tõll's archenemy Vanapagan (Old Devil), who found Suur Tõll sleeping at the peninsula and decided to cut the peninsula away from rest of the island to send it to the seas. When Vanapagan was trying to push the Sõrve away, Suur Tõll woke up and punished him for his cruel intentions. Another story tells about the small islets in the Irbe Strait just south from Sõrve Säär. Once again Suur Tõll was chasing Vanapagan for his evil acts and Vanapagan was trying to escape over the Irbe Strait to the Courland. Small islets are the rocks that Suur Tõll was throwing at the fleeing Vanapagan – bigger rocks landed closer and smaller farther.
From the Viking ages till the recent history, Sõrve has been an important part of trade routes and seat for war bases due to its geopolitically strategic location. Latest memories stem from devastating battles of II World War, which resulted with disappearance of Sõrve's 17 largest villages out of total 23. Remained only monuments of the battlefield.
Today, Sõrve is famous of its rare flora and fauna, and of the numerous bird species stopping here during their migration. Here are several natural sights worth visiting such as Kaugatoma bank, Ohessaare landscape protection area, Vesitükimaa, Viieristi Nature Reserve with its walking paths, etc. In addition, one should pay a visit to the Sääre military museum and Sõrve Külastuskeskus.
Most recent atraction in Sõrve is the famous Salme ship discovery which turned out to be a burial of ancient warriors. The find is recognized as a unique sample in all over Europe and as the oldest ship wreck ever discovered in Estonia – 8th century A.D. Monument of the burial open to everybody in the local shcool yard.
---
Our Sõrve guesthouse is located right at the starting point of Sõrve peninsula – in Salme village close to the sea and the river. You can find us following the Google Maps "Sõrve Guest House" or the signposts at the road. Guesthouse is located on the second floor of Salme Community House. At the ground floor there are kitchen and dining hall where feast can be arranged for up to 40 people. In the same building there is also larger hall for parties with up to 120 people.
Driving 25 km further south on the main road of Sõrve, towards port of Mõntu, right next to signpost of Mõntu village there is a small country road turning left to the Sõrve Holiday Village. Look for Villa Sworve at Google Mamps.
For visitation advance notification on phone +372 52 53 530 or a booking at our web page www.sorve.ee would be requisite.